Next in the beehive stack-up is the slotted rack.  Although not completely necessary, it provides improved ventilation.  Some people don't use them, but since I live in Texas my rationale is that more ventilation is better!  Here's what it looks like when complete:
Here's what you'll need:
2 – 1×2's cut to 18 3/8″
10 – 1×2's cut to 13 7/8″
2 – 2×2 cut to 16 1/4″
2 – 2×2 cut to 14 3/4″
Start by building the outer frame.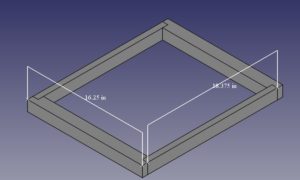 The work here is cutting the rabbet's into the 2×2's at each end.  The rabbets are 3/4″ wide and 3/4″ deep.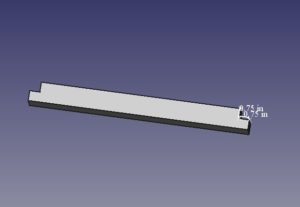 You can cut them using a table saw with a single blade and multiple passes to "whittle" away the material.  You can also use a dado blade, or as I do using a router.  Assemble the frame using glue and brads.
Add the next two 2×2's to complete the frame.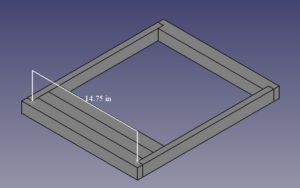 Now for the fun part, placing the slats.  Here's how I do it.  I find the center of the frame and mark off 11/16″ on each side of the centerline.  Next, I mark every 1 3/8″.  From that point you should have 10 slat center lines marked.  The distance between slats is 5/8″ except at the 2 sides where ist's a little larger than 3/4″.   Once I have the CL's marked, I glue the top and bottom of the slat and set it in place with a toe nail from both the top and bottom and on both sides.  I use a nail gun to set the brads.